Get to know our 4-star hotel in Gastein
genuine.charming.personal
Hello and welcome to the Hotel Zum Stern in Bad Hofgastein!
Peace and relaxation in fresh mountain air awaits you at our 4-star hotel in Gastein during a summer or winter vacation in the heart of the Hohe Tauern National Park, surrounded by gorgeous nature. Enjoy culinary indulgence on the panorama terrace or at one of our stylish restaurants. Cap off your evening in our cozy hotel hall with open fireplace and a bar that fulfills every wish.
That's a genuinely relaxing vacation in Austria!
Experience wonderful moments!
Your family hotel in Gastein
Cozily furnished hotel rooms in Bad Hofgastein, the spaciously dimension spa area and an indoor pool with a view of Salzburg's mountains provides you with real magic moments. A mix of stylish ambiance and snugness invites you to stay and relax. Go on a tour of our 4-star hotel in Gastein.
Hotel Zum Stern consists of two buildings, the main house and the country house directly connected to it. The basement floor is dedicated to physical well-being. It harbors the spaciously dimensioned spa areas, the panorama indoor pool, massage and cosmetics rooms and a gym. On the first floor our restaurant team treats you to various delicacies. And finally – at the center of our house – we at the reception desk will gladly assist you at any time to turn your summer vacation or winter vacation in Bad Hofgastein into an unforgettable experience. Hotel Zum Stern – all-year round!
Sternterrasse im Winter
einer der schönsten Plätze im Tal
Sterngarten im Sommer
einfach entspannen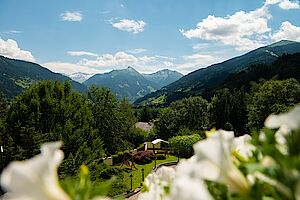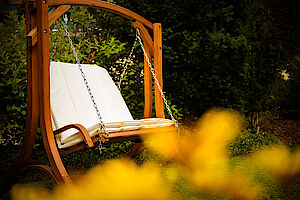 The hotel at a glance
Highlights of your accommodation in Bad Hofgastein
A clearly laid out, small hotel with a personal touch
Comfort ambiance with 4-star superior standard
Bright and cozy rooms and suites in various sizes (20 - 105 m2) with spacious bathrooms and balconies
Located in a quiet area with an ample garden, approx. 15-minute walk from the centre of Bad Hofgastein
Regular train connections from and to Salzburg, Vienna and Munich
55 mi from Salzburg Airport and 160 mi from Munich Airport
Delightful gourmet half-board including the following services: breakfast buffet with organic corner, sweet and savory afternoon snack, 5-course dinner menu with various choices
Spacious, award-winning spa area (over 2800 sq ft) with indoor pool, sauna and rest area
Tea bar with a selection of regional herbs from the Gastein mountains
Special massage and cosmetics department with a plurality of pampering treatments
Dense network of beautiful hiking trails in Gastein Valley, three connected large ski areas (part of the ski and sport region Amadé), only a few minutes to the ski center Angertal
One of the most beautiful golf courts in the province of Salzburg
And many other included services at your hotel in Gastein Valley
You're sure to feel comfortable with us on your relaxing vacation in the province of Salzburg in Austria.
Our garden
Botanical 4-star charm at the hotel in Bad Hofgastein
The large sun terrace of our 4-star hotel in Gastein offers an overwhelming view of Gastein valley and the mountains of the Hohe Tauern. The hotel's garden with its flowers and herbs exudes a divine fragrance the mountain wind gently wafts around your nose. You've found your favorite place amidst this glorious mountain scenery and enjoy the home-made desserts. The rose garden and the sweeping golf court facilities provide a worthy backdrop for your enjoyable experience. Rejoice in the unique scenery and feel the magic of nature. Find all of that combined at the Hotel Zum Stern giving you a reason to enjoy a guaranteed extraordinary and relaxed recreative vacation in Austria.
Experience our special 4-star hotel in Gastein up close and request a nonbinding holiday offer today!